FOR IMMEDIATE RELEASE
25 March 2009
Contact:
Dan Baker
Research Director
+1 570-620-2320
dbaker@technology-research.com

Telecom Network/Service Assurance & Remote Test Software Market to Reach $2.9 Billion in 2013
EFFORT, PENNSYLVANIA (25 March 2009) – Assurance and test software that monitors the performance of telecom networks and services are becoming more critical to operator success, especially in wireless markets.
The steady migration to all-IP networks and a surge in demand for mobile data applications are two factors causing telecoms to make major new investments in assurance software.
That's the conclusion of a new research study published by Technology Research Institute (TRI) which pegs the telecom assurance market at $2.4 billion last year with forecasted growth to $2.9 billion in 2013.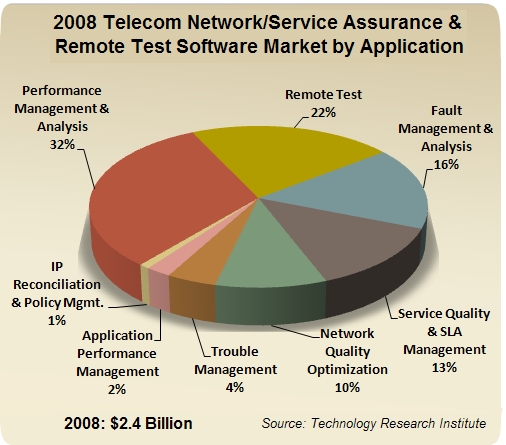 "When the iPhone took off and mobile data began to scale for the first time, telecoms began looking at their assurance problems with a new sense of urgency," says Dan Baker, OSS/BSS research director at TRI. "The only way you can seriously combine high bandwidth data, complex services, and high quality voice is to constantly assure, test, and tune everything. Where wireless is going, assurance/test software becomes as critical as the cell towers", he adds.
Because assurance is now a top shelf priority for telecoms, the study sees traditional assurance apps such as fault management and performance management eventually giving way to newer apps such as 3.5/4G network optimization, service quality/ customer experience management, policy compliance, home network monitoring, and application performance management.
Details on this most recent report, The Telecom Network/Service Assurance & Remote Test Software Market can be found at http://www.technology-research.com/products/assurance.html.
###
About Technology Research Institute
Founded in 1994, Technology Research Institute (TRI) is a market research and consulting firm that specializes in the areas of OSS/BSS software and telecom IT services. For further information, visit www.technology-research.com or Tel: +1 570-620-2320.