Coming this Fall, a new Report on...
Telecom Wholesale, Partnering &
Interconnect Systems
| | |
| --- | --- |
| Price: | $2,250 USD |
| Publish Date: | December 2015 |
Interconnect and network exchange have been with us for a long time, but the digital ecosystem is taking service exchange and partnering to a much higher level. Not only has the number of wholesale partners and services expanded, greater complexity has entered the game via LTE, IPX, and the need to work more closely with OTT partners.
But carriers are also renewing their internal systems with stronger capabilities via greater integration, cloud support, cost saving/productivity boosting features, and big data analytics to gain a strategic edge over competitors. TRI's report will explore these issues and answer questions such as:
What platform features are gaining ground in billing and settlement?
Which capabilities are needed in traffic routing?
What's the status of financial clearing in roaming and how will the advance of LTE change roaming?
What kind of partnering platforms are needed to deliver a deeper, money-making relationship with OTTs?
Who are the leading companies in number porting and third party registries, and where are they headed?
As IPX, HD-Voice and multimedia service exchange emerge, where are the system opportunities?
What is the role of service quality testing in wholesale?
What are the market trends affecting the future of P2P and A2P messaging?
How are vendors delivering on faster and more strategic analytics in support of the wholesale & partnering business?
How fast are service orchestration and cloud exchanges being deployed?
Vendor Coverage — Here are the vendor companies whose activities we plan to cover in this research report.
Araxxe
AsiaInfo
Auris
BCS Networks
CENX
CSG International
Comarch
Enghouse (Basset)
Equinix
GCS
Metratech (Ericsson)
Oculeus
Redknee
SIGOS
Starhome Mach
Subex
SwitchRay
Syniverse
TEOCO
Telarix
XConnect
iconectiv (Telcordia)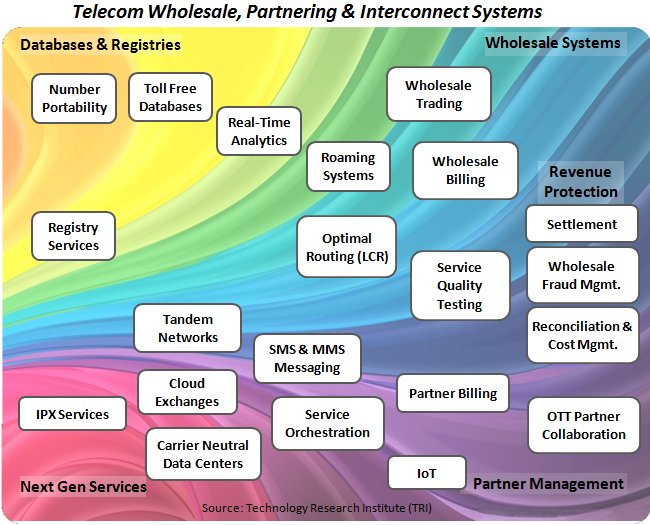 If you buy both the Wholesale Report and Fraud Management Report, you enjoy a $1,000 discount off the price of the two reports ordered individually. See the order form for details.