Dear Colleague:
Provisioning and inventory systems used to be backstage, batch-oriented, single-purpose systems designed to made life easier for "swivel-chair" engineers who made manual network changes.
Now, however, as telecoms face the daunting tasks of configuring smartphones and triple play video services, provisioning and inventory systems are increasing "going live" and becoming far more real-time, integrated, multi-layered, and mechanized.
Here are some product trends and achievements that are changing the OSS fulfillment landscape:
Inventory systems are moving closer to the network. Subex Azure's solution, for instance, is breaking new ground for AT&T's triple play, offering daily service discovery and tight integration between inventory and provisioning to support "on-the-fly" customer self-service ordering.

Wireless service bundles have become so complex that synchronizing billing and provisioning requires great technical dexterity. Comptel is addressing the problem with a new central product catalog that interfaces with the CRM and configures network elements and content servers.

Traditionally, as new networks are deployed, telecoms migrate their OSS systems to a new platform. Now, rules-based provisioning from Fastwire abstracts generic design rules and allows Optus in Australia to preserve its OSS investments and enable targeted network deployment to specific regions and customer bases.

Automated over-the-air handset provisioning will soon enable 2.5G handsets to sport email, calendar, and other Blackberry-like features. Here, Synchronica is lightening the provisioning load for operators by providing server side tools to allow real-time interaction with phone users.

Traditional network management systems lack a precise view of IP devices underneath making it risky to automate network grooming. Now Canadian operator Telus is using an Intelliden system to detect potential IPTV network outages and launch mechanized and policy-based reconfiguration that reduces the high expense and errors of manual provisioning.

When it comes to large-scale VoIP provisioning, the OSS/BSS and network systems are often not fast enough to deliver the instantaneous response needed to support a self-care portal. To gain real-time performance, Comcast uses a Jacobs Rimell solution that maintains a persistent, virtual provisioning layer that normalizes, federates, and synchronizes operational data.
On the strength of these innovations, TRI pegs the market for provisioning and inventory software market at $1.3 billion in 2006 and forecasts it to grow to $1.8 billion in 2011.
Telecoms' urgent need for these efficiency and service-enabling solutions presents great opportunities for companies and internal IT shops who supply fulfillment software and related services.
And that's precisely why your team needs to get a copy of TRI's latest research study on the fulfillment market: Telecom Provisioning, Network Inventory, Activation & Service Management Solutions.
This Report analyzes this complex market and shows how you and your company can capitalize on the niches and avoid dangerous forays into markets that are either too competitive or too specialized to attract enough paying customers.
Whether you're a carrier executive aiming to improve your OSS infrastructure or a vendor delivering inventory, provisioning, or service management and related solutions, the Report will help you discover:
What are the most important market priorities?. . .
Which success strategies of other operators can you adopt at your own telecom organization?
Which vendors have industry market share and are leading in specific niches?. . .
What's the impact of large players such as Oracle and Amdocs entering the market?
Which OSS players should you partner with?. . .
What emerging trends can your company capitalize on?. . .
Please scan the executive summary and full table of contents below. You'll see why this report delivers the tactical and strategic information you need to fully understand where telecom provisioning and inventory systems are headed.
To access this market intelligence today, contact Wyatt Greenwalt at TRI's offices at 301-652-8350.
Sincerely,


Dan Baker
Research Director, TRI OSS/BSS KnowledgeBase
P.S. This Report is one research module in TRI's on-going OSS/BSS KnowledgeBase covering the breadth of telecom software and OSS innovations on a yearly basis.
Table of Contents
Telecom Provisioning,
Inventory, Activation &
Service Management Solutions
A. Executive Summary (2 pages)

B. Network Inventory (10 pages)
1. The Emergence of Capacity Inventory
2. Capacity Inventory -- Its Chief Characteristics
3. The Elegance of Inventory Federation
4. Bringing Just-in-Time Inventory to Play
5. Why itís Hard to Maintain Inventory in Modern Networks
6. How Poor Inventory Affects Provisioning
7. Provisioning Benefits of Accurate Inventory
8. Service Assurance Benefits of Accurate Inventory
9. Inventory's Value Beyond Provisioning
10. Telcordiaís Approach to Federation

C. IP Service Provisioning (5 pages)
1. Marrying IP Connectivity and IP Service Delivery
2. Cable Operator Comcast's Consolidated IP Platform
3. The Importance of Subscriber Management Systems
4. Why Enterprises are Looking to IP-VPNs
5. Provisioning Software for IP-VPNs
6. The Rise of Ethernet Competition to IP-VPNs
7. Metro Ethernet Yipes Rises Again as a National Ethernet Provider

D. Rules Based Provisioning (4 pages)
1. Do New Network Deployments Require a New OSS?
2. How Rules-Based Differs from the Current Provisioning Model
3. Consulting the Provisioning Design Playbook
4. Fastwire's Rules-Driven Design Abstraction
5. A Way to Strategically Insert New Network Technology

E. Terminal Provisioning (4 pages)
1. Market Drivers: Handsets, Protocols, Services, & Automation
2. How Terminals are Provisioned
3. Complications in Terminal Provisioning
4. Two-Way Communication with the Handset
5. Device Management: Enabling a Mobile Email Explosion?

F. Access Network Provisioning (4 pages)
1. That Precious Telecom Asset -- Facilities in the Last Mile
2. Why Access Network Automation is Vital to Next Generation Services
3. The Benefits of Outside Plant Integration
4. Access Network Provisioning Benefits to Customer Care
G. Product Catalog (2 pages)
1. The Disconnect Between BSS and Provisioning Layers
2. Manufacturing Style Production
3. Market Demand for Product Catalogs
H. Carrier Interconnect Ordering (2 pages)
1. Interconnect: From Legal Battles to Business as Usual
2. Cable Providers Boost the Intercarrier Ordering Game

I. Network Planning, Design & Engineering (2 pages)
1. The Coming Merger of Engineering and Provisioning Worlds
2. The Information & Culture Gap
3. The Role of Network Planning Software

J. Service Design and Order Management (11 pages)
1. Maintaining Eight Million Customers with a Manual Ordering System
2. The Customer & Network-Facing Sides of Telecom Service Orders
3. Network Orders and Billing Bundles
4. Why Cross-Industry Ordering Solutions Donít Fit Telecom
5. The Economics of Order Process Change
6. The Requirement for Advanced Order Management
7. Features of an Advanced Order Management System: Expeditor
8. The Complexity of Network Order Management
9. Setting Priorities for Inventory/Provisioning Systems
10. Steps in the Provisioning a Service for an Enterprise Customer
11. Not Being Captive to Genius Designers
12. Product Management Design vs. Implemented Design
12. Handling Manual Work Instructions
13. Designs Using the Provisioning "Lego" Model
14. Automation - Real-Time Quotes & Customer Responsiveness
15. Designing in Network Diversity
16. Limitations to Design Automation
17. How Business Policy Affects Fulfillment
17. Human Intervention in Provisioning

K. Provisioning History & Migration To NGN (3 pages)
1. Provisioning Simplicity in the Circuit Voice World
2. Next Gen Networks: Multi-Vendor and Multi-Technology Complexity
3. Uniting the Data and Network Layers
4. The Dynamic Nature of NGN Networks

L. Provisioning Mechanization & Flow-Through (2 pages)
1. The Human Engineer in the OSS Loop
2. The Challenge of Flow Through Provisioning

M. Transport Network Provisioning (3 pages)
1. The History of the Merchant Provisioning/Inventory Market
2. The Purpose of a Transport Provisioning System
3. The Many OSS Systems Transport Provisioning Touches
4. Adding Business Rules during Service Creation
N. Service Management Systems (4 pages)
1. From Vertical Silos to a Horizontal Service Management System
2. Service Management Components
3. Managing Component Dependencies
4. The Product Conception to Deployment Advantage
5. Instantiating the Service for the Customer
6. Service Management Initiative at Orange/France Telecom
O. Service Activation in Wireline Networks (2 pages)
1. Basic Function of Wireline Network Activation
2. Shortening the Provisioning-to-Activation Process
P. Telecom Network Discovery (6 pages)
1. Telecom Network Discovery: Elements, Topology, Services
2. Why Telecom Discovery is Bound to Become More Important
3. The Value of Real-Time Inventory Reconciliation
4. Major Steps in the Telecom Discovery Process
5. The Auto Discovery & Upload Process
7. Discovery Across Telecom Equipment Clouds
8. Associating Network Assets with Services
9. Recovering Stranded Assets
10. Asset Reclamation -- Reconciling with Billing
11. Layer 1 Service Discovery

Q. Control Planes & Intelligent Agent Discovery (2 pages)
1. Distributed vs. Centralized Network Management
2. How the Control Plane Discovers Topology
3. Example of Agent Peer-to-Peer Communication

R. Service Delivery Platform (2 pages)
1. SDP -- Defining a New Product Category 73
2. Telcordia's Multi-Purpose SDP Platform 74
3. SDPs & Large Telecoms 74
S. Content Management Systems (2 pages)
1. Definition and Functions
2. Content Acquisition & Bundling
3. Why Content Management Gives Carriers Better Control
T. IP Multimedia Subsystem (IMS) & the OSS (2 pages)
1. Managing Multimedia Applications in an IP Services World
2. Instant Messenger IMS Implementation at SK Telecom
3. IMS Analysis and Alternative Solutions
U. Market Threats & Recommendations (3 Pages)

X. Market Segmentation & Forecast Analysis (6 pages)
1. How TRI Develops its Market Segmentations
2. Market Growth Forecast
3. OEM vs. Service Provider
4. Distribution Channels
5. Geographic Region
6. Service Provider Type
7. Service Provider Size
8. Type of Provisioning & Inventory Solution
9. Networks/Devices Provisioned & Inventoried

Y. Case Studies (30 pages)
1. SingTel Optus: Rules-Based Provisioning & Inventory
2. Verizon's FIOS Provisioning & National Desktop
3. Verizon Wireless Content Management System
4. CenturyTelís Access-to-Transport DSL Provisioning System
4. Telecom Italia Sparkleís International Network Inventory
5. XO Communications Inventory & Provisioning System

Z. Provisioning & Inventory Definitions (4 pages)


Case Studies

SingTel Optus Rules Based Provisioning & Inventory System
SingTel Optus is Australiaís second largest telecom offering a full suite of residential, wholesale and business services including Internet access, VPNs, Ethernet, mobile, voice and data. Since 2001, the company has been owned by SingTel, one of the largest communications service providers in Asia Pacific. The company serves 4 million Australian homes and revenues reached $6.7 billion in its 2007 fiscal year.
To win market share from the incumbent operator, Telstra, Optus had to significantly reduce the time required to turn up services for new and existing customers. The company decided to achieve this goal by fully automating its provisioning process for its highest volume business communications services.
Automating the design and assign process has resulted in a deduction in service design times from hours to minutes for complex services. It further enables for example ďbatchingĒ of similar orders. The net effect is that the complete service order provisioning cycle has been reduced by up to two days per service.
Verizon's FIOS Provisioning & National Desktop
The complexity of Verizon's current provisioning environment has made it extremely difficult to support COTS implementation.

The case explains the complexity of Verizon's OSS/BSS environment and why the decision was made to develop Verizon's next generation broadband FiOS environment in-house.

FiOS is a true triple play service because voice data and video are converged on a single pipe.

The study explains how the system's unique architecture that separates the complexities of fiber from the transactions pushed into Verizon's regular provisioning flow.
Another complication was to create a national system for provisioning to handle workflows across the company's East and West systems.'

CenturyTel's Access-to-Transport Provisioning System
CenturyTel wanted a fully integrated and automated solution to speed up the process and eliminate the errors that occur in assigning DSLAM-to-ISP facilities manually.
The case shows how CenturyTel migrated its entire access and network provisioning into an integrated access-to-transport provisioning, managing over 4,000 devices and 200,000 customers. (9 pages including 4 figures)

Telecom Italia Sparkle's International Network Inventory
Providing complex, customized services for many of its large customers was proving costly for Telecom Italia's international network unit, Sparkle.
The case shows how Telecom Italia Sparkle delivered a single point of management for all services configuration and activation across its retail and wholesale operations, integrated with CRM, and unified legacy systems. (6 pages including 2 figures)

Verizon Wireless Content Management System
Verizon Wireless recognized the revenue opportunities afforded by IP content, but was looking for a solution that would manage the many aspects of content management from a central platform.
The case reveals the goals, challenges, and benefit Verizon realized from implementing an electronic content supply chain with revenue sharing controls, partner settlements, subscriber profiling, and user device tracking. (4 pages including 1 figure)

XO Communications Inventory & Provisioning System

Consolidation was a pressing need for XO Communications because -- from an ordering perspective -- XO had two separate networks, its own and the Allegiance network it had recently acquired.

The case study shows combined two inventory systems and built integrations to mechanize provisioning operations to lower costs, reduce the order-to-bill interval, and eliminate manual provisioning errors.
Vendor Profiles
Over twenty-two vendors have established themselves on the telecommunications provisioning and inventory scene in recent years.
In this section, TRI analyzes each of the leading companies in 2 to 5 page profiles delivering:
Historical expertise and background
Specific areas of strength and weaknesses
Significant customers and partnerships
Key products
Differentiators that make the company standout
The company's provisioning/inventory revenue for 2006
These vendor profiles and technical specs are a great time-saver: they deliver the kind of information you'd otherwise have to spend weeks tracking down. A list of vendors profiled follows:
Market Segments & Forecasts
TRI sizes and forecasts the worldwide market for provisioning, inventory and service management software and services. Our forecast model is based on several parameters: TRI's historical tracking of the OSS market; TRIís forecast of Next Generation Network (NGN) services growth; discussions with carrier experts; and interviews with software and consulting vendors.
The report provides 2006 base revenue and 2007 to 2011 forecast data for the global market in the following segments:
1. OEM vs. Service Provider Market
2. Distribution Channel
- Direct vs. Indirect Channels
3. Geographic Region
- North America, EMEA, Asia Pacific, Latin America
4. Service Provider Type
- Wireline Voice, Broadband, Wireless, Cable, Reseller, Other
5. Service Provider Size
- Tier 1, 2, and 3
6. Functional Category of Provisioning/Inventory
- Transport Network Provisioning
- Access Network Provisioning
- Network Inventory
- Service Activation & Discovery
- Order Management
- Content Management
- Service Management & IP Services Provisioning
- Intercarrier Order Gateway
- Wireless Provisioning
- Other
7. Type of Network/Device Provisioned or Inventoried
- Radio Access Networks|
- ATM/Frame Networks
- Broadband Networks
- Transmission Networks
- Fixed or Mobile Core TDM & Mobile HLR
- IP & Corporate Networks
- Service Delivery & IN Machinery
- Mobile, CPE & Home Terminals
- Other Networks/Devices
About TRIís
B/OSS Market Research Reports
TRIís B/OSS market research studies are designed to help telecoms and OSS/BSS vendors track market innovation in the sector.
Each of our reports delivers a fully organized body of knowledge and analysis across three interfaces:
Complete Microsoft Word text of Report and Vendor Profiles. Forecasts are delivered in MS Excel;

A Compiled HTML file for your desktop PC that allows searching the text and visuals of our analysis modules, case studies, and vendor profiles; and,

A Software Application (written in Microsoft Visual Foxpro) with market segmentation and forecast data that you use to view customized data tables, graphs, vendor comparisons, and print documents. Note: all data and forecast tables are also provided in Microsoft Excel and comma delimited files can be created too.
Below are some sample screens:
Compare vendor market strength in grids. . .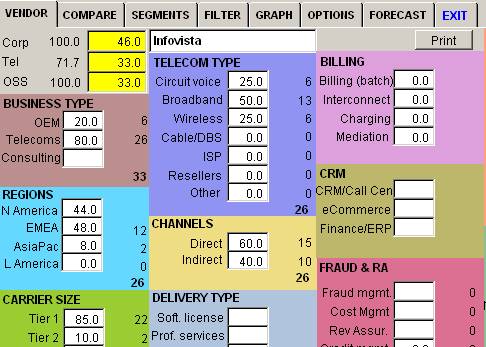 View, modify, and print our estimates of company financials. . .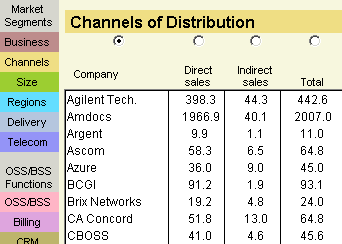 View market share graphs in international currencies. . .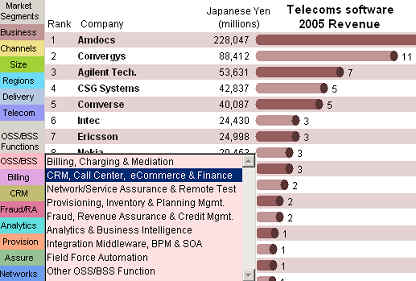 Compare company financials. . .


Perform fast text searches on the desktop. . .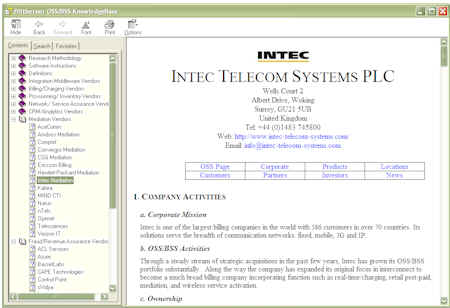 ---
Technology Research Institute
4-25 Rocky Mountain North
Effort of the Poconos, PA 18330

Tel: 570-620-2320
dbaker at technology-research.com